Welcome to The San Antonio Riverwalk


Finding good information on the riverwalk in San Antonio is not easy. We
recently visited the riverwalk while visiting Lackland Air Force Base.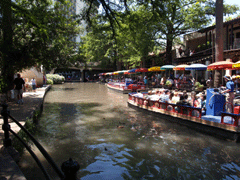 The riverwalk is easy to get to. It is in downtown San Antonio next to the Alamo. Taking Interstate 37 in San Antonio to E Market Street will get you
to the riverwalk. The Alamodome can also be found at this exit. This is a really nice area with everything centrally located in San Antonio.

The riverwalk area has numerous restaurants and hotels. There is also an
IMAX theater at the location. The riverwalk can be found across the street from the Alamo.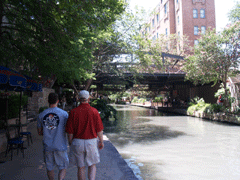 There are many Venice style boats floating down the riverwalk. Some of the boats serve meals as you float down the riverwalk. They also have some nice Tex Mex restaurants along the riverwalk. During weekends and with large parties, it is better to look for restaurants on the second level of the riverwalk. The lower level is not only very hot and humid, but it is where most of the visitors are walking along the riverwalk. We went to the second level, street level, and had no problem getting seating for lunch when down below people were waiting approximately 45 minutes plus at places like the Rainforest Cafe and other eateries.

Please check our photo section where I have numerous pictures of my visit to the riverwalk.